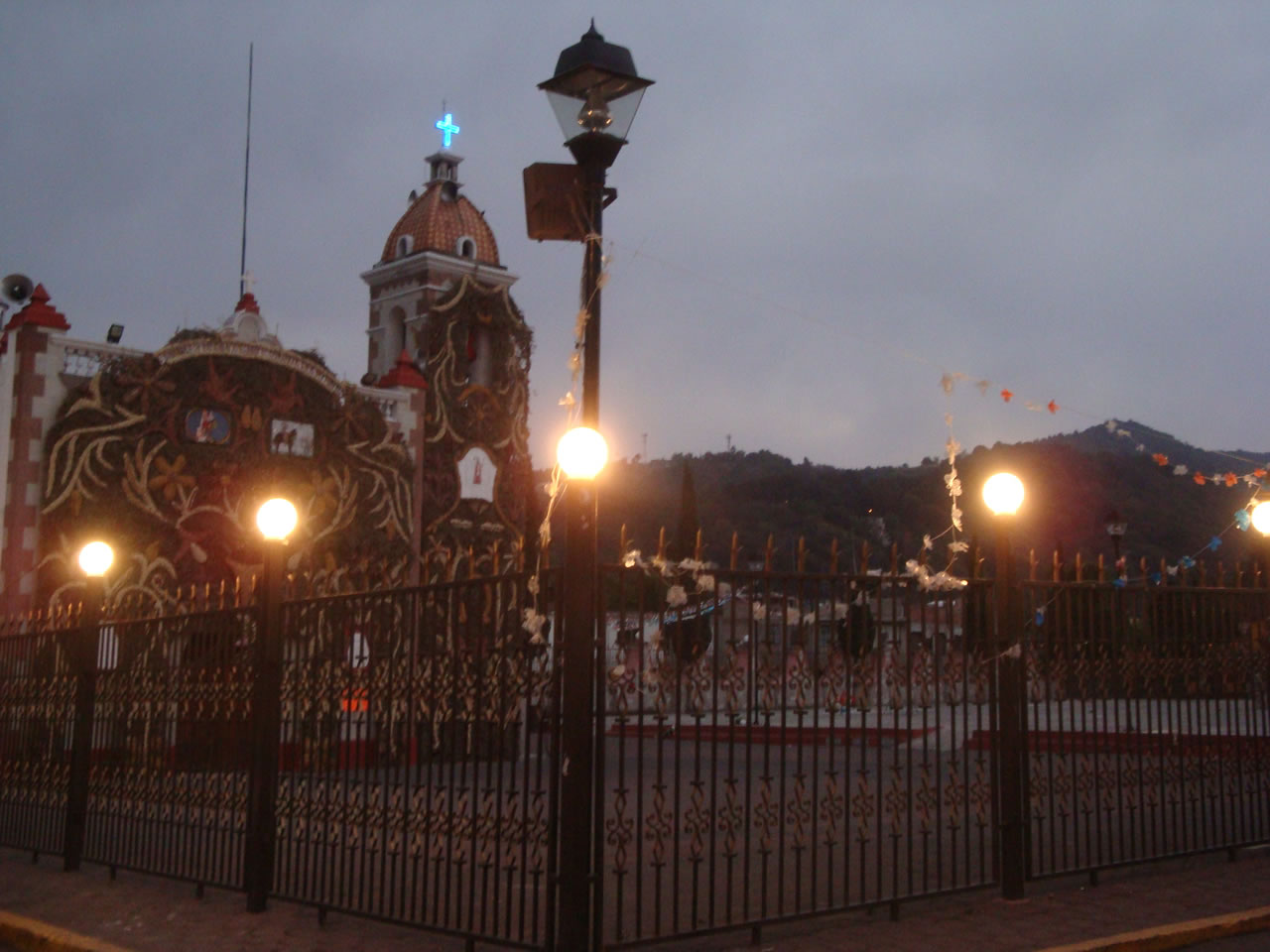 Huixquilucan is a municipality in the State of Mexico which houses lush living spaces such as Interlomas as well as lower income areas such as the chief municipality Huixquilucan de Degollado.
It is located in the central area of the State of Mexico and belongs to the oriental slope of the mountain known as Monte de las Cruces, in the Metropolitan Area of the city of Mexico.

It is divided in three zones: Traditional, Popular and Residential. It consists of a chief municipality, 13 ranches, 11 towns, 20 neighborghoods, 19 residential areas and the downtown area.

ANCIENT HISTORY
Huixquilucan was founded on January 1st 1826. Its name is derived from Huitzquilitl or Huitzquilitl which means thistle. Therefore it means "Place full of thistles"
The territory known as Cuatlapan or Sierra de la Cruces was inhabited by the Otomi during prehispanic times. They were conquered by the Olmecas and then the Nahuatlacos who were in turn conquered by Tlacopan. Tlacopan was eventually conquered by the Mexicas and Acolhuaques though the settlement remained Tlacopan culturally.


PRINCIPAL CELEBRATIONS
San Martin de Caballero Fair takes place on the last Saturday of January. People come to dance popular and electronic music. You may read a review (in Spanish) of the fair which took place on 2011.
state-of-mexico/huixquilucan-en/98-the-traditional-san-martin-caballero-celebration-took-place-in-huixquilucan-2011


BORDERS
To the north: Naucalpan de Juarez y Jilotzingo.
To the South: Ocoyoacac, Cuajimalpa de Morelos and Miguel Hidalgo.
To the Northeast: Lerma
To the East: Cuajimalpa de Morelos

Information:

Cabecera

Huixquilucan de Degollado

Fundation:

1 de enero de 1826

Area

Total 143,52 km²

Población (2005)

Total

hab. 233,152

Density

hab/km²

Official Goverment Web Page:

http://www.huixquilucan.gob.mx
THINGS TO DO AND PLACES TO VISIT

Huixquilucan de Degollado (Chief Municipality) In downtown Huixquilucan, you will find a town which still keeps and adheres to its traditions, dances and typical events.
HIGH RISE BUILDINGS
Due to Interlomas, Huixquilucan has become populated with over 80 buildings raging from 50 mt. to 120 mt. This has resulted in a lush and comfortable living and shopping area in par with the world's best.
Interlomas – Residential and Comercial area. One of the most luxurious cities in the State of Mexico. It boasts shopping malls and store such as Centro Comercial Icup nterlomas, Magnocentro (Best Buy, Walmart).
At Interlomas you'll be able to go shopping, eat at good restaurants or enjoy a great podrás ir de compras, comer en buenos restaurantes, or enjoy a great cup of coffee.
THINGS YOU SHOULD KNOW
Education: The municipality has 175 schools. Here are a few of them:
• Anahuac University- Located at Av. Lomas de Anahuac s/n, Huixquilucan, Estado de México.
http://www.anahuac.mx
• Tecnológico de Estudios Superiores de Huixquilucan – Located at Paraje "El Río", La Magdalena Chichicaspa, Huixquilucan, Estado de México.
http://www.tesh.edu.mx
It hosts two cultural centers
• Casa de Cultura Sor Juana Inés de la Cruz – Located at Av. Huixquilucan-Zacamulpa, Km.1.5, Jardín de la Cultura, Quinto Cuartel
• Centro Cultural El Jaguey – Located at Av. México s/n, Santiago Yancuitlalpan
HIGHWAY INFRASTRUCTURE
Highways cross the región in a Northeast to Southeast heading. Its upkeep is innuficient due to the topography of the region. This causes severe traffic problems to which is added innadecuate roadside signals.
Primary Roads
• Highway, Chamapa–Lechería.-Que It Travels from Naucalpan to Cuajimalpa de Morelos D.F.
• Paseo de la Herradura Avenue.- Travels from Naucalpan to Interlomas Blvd.
• Ramal Interlomas.- Goes from Vialidad Barranca to Chamapa-Lecheria Highway.
• La Marquesa–Río Hondo-Huixquilucan.- It travels form Naucalpan to Ocoyoacac.
• Av. Jesús del Monte-Santiago Yancuitlalpan-San Ramón-Cabecera Municipal.- Goes from Colonia Jesus Neighborghood to the Chief Municipality.

• La Magdalena Chichicaspa- Federal highway which goes from Naucalpan to El Mirador.
• Av. Lomas Anáhuac-Av. de los Bosques- Camino a Tecamachalco.- Travels from Naucalpan until Cuajimalpa de Morelos, D.F.
• Blvd. Magnocentro.- Travels from Palma Criolla until Vialidad de la Barranca.
• Vialidad de la Barranca.- Travels from Magnocentro Boulevard until De las Palmas Estate.
• Blvd. FM.- Travels from Manocentro Boulevard until Lomas Anahuac Avenue.
• Palma Criolla.- Travels from Palma de Datil until Palo Solo Avenue.
• Av. Bosque de Minas, Av. Palo Solo-Av. Jesús del Monte.- Travels from Naucalpan until Cuajimalpa de Morelos, D.F.
HOW TO GET THERE
1.- From Tepozotlan or Cuautitlan Izcalli via Toll.- Take Circuito Exterior Mexiquense heading towards Toluca to eventually take the Chamapa-La Venta highway. Take the Huixquilucan exit. Approximate time is 30 minutes with an estimate cost of 60 pesos toll.
2.- From Mexico, D.F.- If you are travelling from the south area of the city, take the periferico heading north. Having passed Ejercito Nacional take Av. Conscripto Exit and continue on towards La Herradura. Head towards Huixquilucan following Camino Viejo. Approximate time 30 to 45 minutes once you are on Av. Conscripto.
Map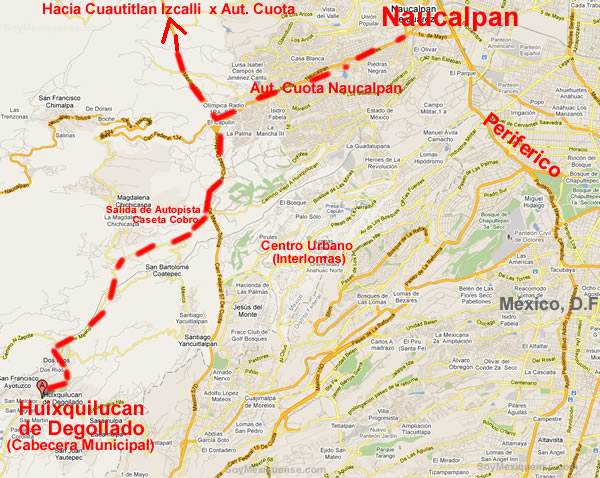 View Larger Map
>>> Galery
CENTRO (DOWNTOWN)
INTERLOMAS