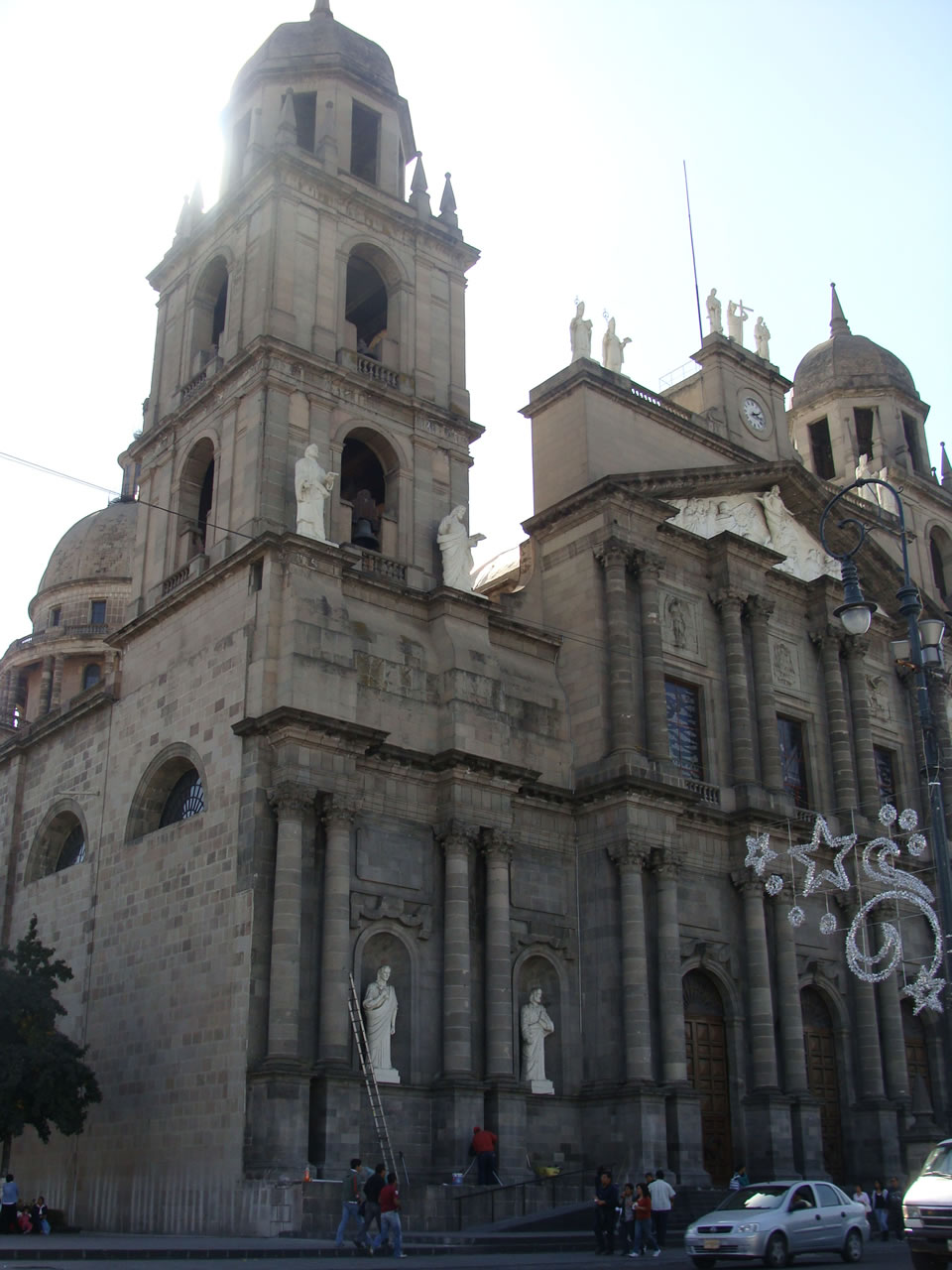 Toluca is the capital of "Estado de México". Together with its bordering cities, San Miguel Zinacantepec, Metepec, Lerma and San Mateo Atenco it forms Toluca Valley. The city itself features a Historic City Centre which still retains many of its original features.
Toluca has a surface area of 42,014 hectares and is made up of the Toluca and the following 24 municipalities: Cacalomacán, Calixtlahuaca, Capultitlán, San Antonio Buenavista, San Buenaventura, San Cristóbal Huichochitlán, San Felipe Tlalmimilolpan, San Juan Tilapa, San Lorenzo epaltitlán, San Marcos Yachihuacaltepec, San Martín Toltepec, San Mateo Otzacatipan, San Mateo Oxtotitlán, San Pablo Autopan, San Andrés Cuexcontitlán, San Pedro Totoltepec, Santa Ana Tlapaltitlán, Santa Cruz Atzcapotzaltongo, Santa María Totoltepec, Santiago Miltepec, Santiago Tlaxomulco, Tecaxic, Tlacotepec and Tlachaloya.

HISTORY
Toluca means ¨Where the god Tolo is¨ or Mountain of the god Tolo¨ or ¨Place of the god Tolo¨.
Its name originates from the Nahuatl ¨Tollohcan¨. It comes from the word ¨toloqui¨ which means to bow one's head.

Historians tell us that Toluca was founded by evangelical monks on march 19th 1522.
In 1861, by decree of the local legislature, the city took on the name ¨Toluca de Lerdo¨ in honour of Miguel Lerdo de Tejada, who served under the Mexican president Benito Juarez and died that same year.

It is wrongly believed that Toluca de Lerdo took on this name in honour of the future president of Mexico Sebastian Lerdo de Tejada who was alive at the time.

MAIN CELEBRATIONS
Festival Toluca: It honours the Patron Saint of the city of Toluca, San Jose. There are several artistic showcases in the city among which feature popular musicians such as Zoe, Alejandra Guzman, Emmanuel, Belinda, Elefante, Banda el Recodo, Ninel Conde (who was born in Toluca), OFIT, Filipa Giordano, Ricardo Montaner and Christian Castro.

The Festival of the Day of the Dead is one the oldest traditions in the city. Artistic representations are put on public display, there are offerings in candy, flowers and food for the dead as well as the traditional Feria del Alfenique and its traditional candy.

Basic information:

State Capital

Toluca de Lerdo

Founded on

March 19th 1522

Surface area

Total 420.14 km²

Population (2005)

Total

819,679 hab.

Density

hab/km²

Official goverment web page:
PLACES TO VISIT
MAIN ATTRACTIONS

• Nevado de Toluca – The Xinantecatl Volcano is better known as El Nevado de Toluca and is a place you dare not miss visiting due to its breathtaking views. Here, you may take strolls, have a picnic and practice alpinism. You will find two lagoons in its craters: El Sol Lagoon and La Luna Lagoon and you may drive up to the craters when the weather permits.

• Zacango Zoo – Located to the south of the city, head towards Metepec and take the Calimaya Exit.
• Calixtlahuaca - Arqueological site to the north of the city.
• Cacalomacán Ecological Park – A place for recreation and fun. It has a 10k trail for running and mountain biking.

PLACES TO VISIT IN THE HISTORIC CITY CENTRE
• Catedral de Toluca – Built on the remains of an old Franciscan convent, it features three wings in the baroque and neoclassical periods. Open from Monday to Sunday 9:00 a.m. to 7:00 p.m.
• Cosmovitral - A Botanical garden located in downtown Toluca. It is made up of 71 individual stained glass murals which make up 3000 meters of artwork. It is considered one of the biggest stained glass murals of the world.
• Bellas Artes Museum- Established in 1945. Though originally built to house a convent, this building features neoclassical and baroque details.
• Los Portales – Located in the city centre, this arches along with the buildings they connect date from the 19th century and have become a typical sight at Toluca.
• Centro Cultural Mexiquense – Located to the north of the city, it hosts several museums among them the museum of modern art, charrería museum as well as a library.
THINGS YOU SHOULD KNOW
Remarkable native people from Toluca

Adriana Barraza, actriz nominada al Oscar por su actuación en la película "Babel"
Ninel Conde - Actriz y Cantante
AIR, LAND AND TRAIN INFRASTRUCTURE
Principal Roads: Toluca-Mexico paid and public highways. Toluca-Atlacomulco to the south of the city and to the west the Toluca-Zitacuaro highway.
The road infrastructure at Toluca allows it to be easily accessible to the rest of the Metropolitan Area at Toluca Valley and to the rest of the cities that make up the State of Mexico.

These are a few regional roads:

• México-Toluca Highway connects Toluca to Lerma, San Mateo Atenco, Ocoyoacac and Mexico City.
• Toluca-Atlacomulco Highway connects the Ixtlahuaca and Atlacomulco municipalities as well as the State of Michoacan.
•Toluca-Zitácuaro Highway connects Zinacantepec, Almoloya de Juarez, Villa Victoria and the State of Michoacan.
• Toluca-Naucalpan Highway connects Otzolotepec, Xonacatlan and the north area of Mexico City.
• Toluca-Ixtapan de la Sal Highway connects Metepec, Mexicaltzingo, Santa Maria Rayon and the southwest area of the State of Mexico
As far as the railroad goes, there is a cargo route from Mexico, passing through Toluca and headed to Acambaro, Guanajuato. The station is located in Independencia Avenue.

TOLUCA INTERNATIONAL AIRPORT
Toluca hosts the Adolfo Lopez Mateo airport located in San Pedro Totoltepec on Boulevard Aeropuerto. It mainly serves cargo flights though there are commercial and private flights.
Airport web page:
http://www.am-ait.com/
Caminante Aeropuerto – Bus service to the airport from nearby cities:
http://www.caminante-aeropuerto.com.mx/
Map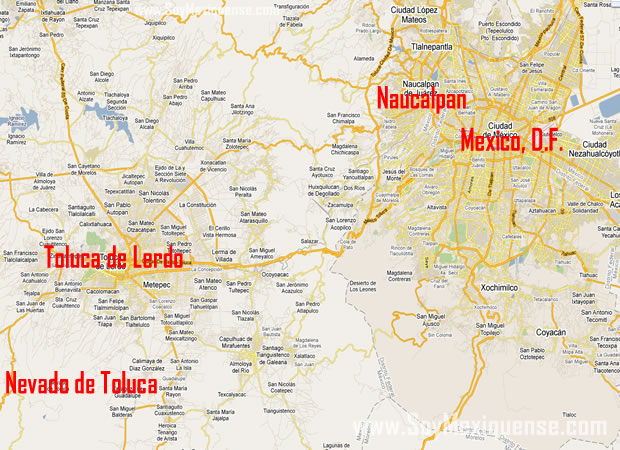 View Toluca Map larger in Google
DOWNTOWN TOLUCA:
NEVADO DE TOLUCA (WITHOUT SNOW):
COSMO VITRAL GARDEN:
LINKS. MORE INFORMATION ABOUT TOLUCA: