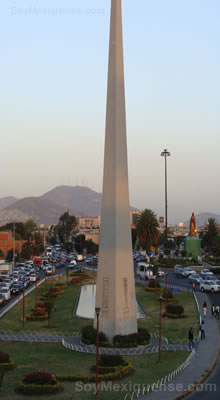 Tlalnepantla de Baz is located in the middle of the metropolitan area of the State of Mexico (Estado de México). Here, you 'll find the best shopping malls, two of the best arqueological sites in the country and historic city centre with a cathedral which dates from 1535.
What does "Tlalnepantla de Baz" mean?
The word "Tlalnepantla" is formed by two words in Nahuatl. "Tllali" (earth) and "Nepantla" (in the middle). Thus, it is translated as: "In the middle of the earth" or "Land of the middle"

Its name is due to its ancient location between the otomi and mexica civilizations.

"Baz" honors Gustavo Baz Prada, a native of Tlalnepantla, a courageous revolutionary, acomplished politician, two time Governor of the State of Mexico and noteworthy physician.


HISTORY
Due to the chichimeca settlement founded in the XII century, Tlalnepantla is of much arqueological and historic interest.

After the Spanish conquest and due to the foundation of convents, Tlalnepantla became increasingly important and a fixed point in the route which communicated the Valley of Mexico with the provinces to the north.
During this time period, large estates (haciendas) began tu be built and many of them are still worth visiting such as: Ex Hacienda de Santa Mónica, Ex Hacienda de San Pablo de en medio.

In 1848, Tlalnepantla became a municipality and by 1888, it had been split into eleven separate municipalities.
In 1917, the State of Mexico was divided into 119 municipalities, Tlalnepantla being one of them.

On October 11th 1948, It became a city thanks to the then Governor of the state, Alfredo del Mazo Vélez.

Datos del Municipio:

Cabecera

Tlalnepantla

Fundación

18 de julio de 1825

Superficie

Total 83.48 km²

Región

XII

Población (2007)

Total

685,141 hab.

Densidad

8,165.85 hab/km²

Gentilicio

Tlalnepantlense, tlalnepanense, tlalnepantleño, tlalnepanteco

Pagina Web Gobierno:

http://www.tlalnepantla.gob.mx/
PLACES TO VISIT
Tenoyuca Arqueological Site (Piramids)
This site has pyramids similar to those in other sites in Mexico such as Templo Mayor, Tenochtitlan and Tlatelolco. It boasts a prehispanic building on a square base, formed by two wide stairways divided by double alfarda (stote edge which limits the width of stairs in Mexican Pre-hispanic temples) and twin temples in its upper area which are dedicated to Tlaloc and Huitzilopochtli.
Its structure is made up of smaller ones which correspond to different time periods. To date, eight different structures have been detected.
Xolotl Museum
Located next to the piramids, it also serves as an entrance to the Arqueological site.
Museum Hours: Tuesday to Sunday from 10:00 a.m. to 5:00 p.m. Entrance costs 37 pesos and 45 if using a camcorder. Mexican citizens by law do not pay entrance fees on Sundays.
Santa Cecilia Acatitlan
Another arqueologial sitein Tlalnepantla, in the town of Santa Cecilia. Located at: " Plaza Dr. Eusebio Dávalos s/n", it was probaly founded by the toltecas or chichimecas civilization and is 3 km.from the Tenayuca piramids.
Downtown Tlalnepantla
Here, you will find the Corpus Christi Cathedral, City Hall and the beautiful city centre. Near the highway, you will find the Obelisk and the Sor Juana Ines de la Cruz monument.
Along Periferico Norte Highway you will find Valle Dorado and several shopping malls.
Pirules and Santa Monica
Also housing several shopping malls, universities and several famous night clubs such as "El Rodeo Santa Fe" which is located in the area known as"La Manzana de Roma".
Mundo E
This shopping plaza is one of the more modern in the area featuring shops such as Zara, Bershka, Dockers, Levys, Sexy Jeans, Shasa, Furor, among others.
It also hosts the first Best Buy to come to Mexico which also happens to be the 2nd biggest worldwide.

Other places to visit:
Arqueological site Izcalli Pyramid II. Located at: "Carretera Tenayuca Santa Cecilia, s/n Col. Izcalli Pirámide II"
Temple of San Andres Atenco. Located at: Tenayuca Santa Cecilia, s/n Col. Izcalli Pirámide II
Chapel at the temple San Bartolo Tenayuca. Located at: Av. Pirámide esq. Quetzlcoatl
Santa Monica Chapel. Located at: Av. Altamirano Esq. Juárez, Col. Ex Hacienda de Sta Mónica
Santa Cecilia Chapel. Located at: Plaza Dr. Eusebio Dávalos s/n
Señor de la Santa Sangre Parish. Located at: Av. Morelos s/n, Col Xocoyohualco.
Santa Monica Estate. Located at: Av. Altamirano Esq. Juárez, Col. Ex Hacienda de Sta Mónica.
San Jose Ranch. Located at: Av. San José No. 13 Col. Lomas de Lindavista
San Pablo de Enmedio Estate. Located at: Av. de la Hacienda, s/n Esq. Poniente 152 Unidad Habitacional Ex Hacienda de Enmedio
Historic Archives. Located at: Porfirio Díaz s/n Esq. Guerrero
THINGS TO KNOW

Noteworthy citizens
Carlos Gerardo Godinez González, better know as "Charly Bostik" founded with Eduardo Cruz the famous "Banda Bostik" from which he separated on 2001. On 2004 he returns to the stage with a new band called "Escuadron". To date, they have released two albums.
En Pirules se encuentra la Preparatoria Indoamericano, donde estudio "Guillermo Perez", quien gano la medalla de Oro de Tae Kwon Do en los Juegos Olímpicos de Beijing 2008. A un lado de esta preparatoria, se encuentra la "Universidad Latinoamericana, ULA"
INFRAESTRUCTURA VIAL
Tlalnepantla cuenta con las siguientes Vialidades Principales:
AUTOPISTA MEXICO-QUERETARO
AV. GUSTAVO BAZ
AV. PRESIDENTE JUAREZ
AV. HIDALGO
AV. JESUS REYES HEROLES
AUT. MEX. PACHUCA
AV. DE LOS MAESTROS
AV. MARIO COLIN
AV. TLALNEPANTLA TENAYUCA
AV. RIO DE LOS REMEDIOS
BLVD. SAN RAFAEL STA. CECILIA
AV. SOR JUANA INES DE LA CRUZ
AV. MORELOS
AV. MARIANO ESCOBEDO
AV. 1o DE MAYO
AV. RIO LERMA
AV. RADIAL TOLTECAS
AV. LAS ARMAS CIVILIZACIONES
AV. CULTURA ROMANA AV. DE LAS GRANJAS
AV. TEQUESQUINAHUAC
VIA ADOLFO LOPEZ MATEOS
AV. NIÑOS HEROES
CALZADA DE LOS JINETES
CARR. LAGO DE GUADALUPE
AV. IGNACIO PICHARDO- AV
ACUEDUCTO
AV. AHUEHUETES-PORLONG 100MTS
ARZ. DR MANUEL PEREZ GIL
AV. ROBERTO FULTON
AV. SAN JOSE
AV. HERMILO MENA
AV. CONVENTO DE STA MONICA
AV. VIVEROS DE ATIZAPAN BENITO JUAREZ
AV. CAMINO STA. MONICA
PROLONGACION HIDALGO
AV. ATLACOMULCO
AV. LA PRESA
CARRETERA TENAYUCA STA CECILIA
AV INDUSTRIA
AV FEDERAL
BLVD ADOLFO LOPEZ MATEOS
VIA MORELOS
AV AYUNTAMIENTO
AV PASEO DEL FERROCARRIL

COMO LLEGAR
Tlalnepantla se encuentra en el Centro de la Zona Metropolitana del Valle de México, por lo que llegar es muy fácil.
Desde el Norte del Estado de México, se llega por la Autopista México-Querétaro, que se convierte en Periférico, pasando el municipio de Cuautitlan Izcalli se llega rápido a Tlalnepantla.
Desde Ecatepec, se puede tomar la Vía López Portillo, hasta llegar a Tlalnepantla.
Desde México D.F, se toma Periferico dirección hacia el Norte, primero pasando por el municipio de Naucalpan de Juárez, para llegar a Tlalnepantla, que se encuentra donde termina Satelite.
Desde Toluca, se puede tomar la Autopista de Cuota que va a Tlalnepantla
Mapa en Google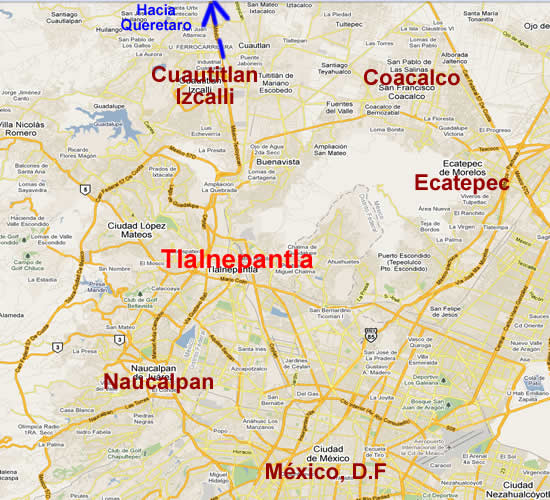 Ver Mapa de Tlalnepantla Mas Grande en Google
+Ver Mapas en Guia Roji de Tlalnepantla
CENTRO TLALNEPANTLA
PIRÁMIDES DE TENAYUCA
VALLE DORADO Y ARBOLEDAS
PIRULES Y SAN ANDRÉS ATENCO
MUNDO E