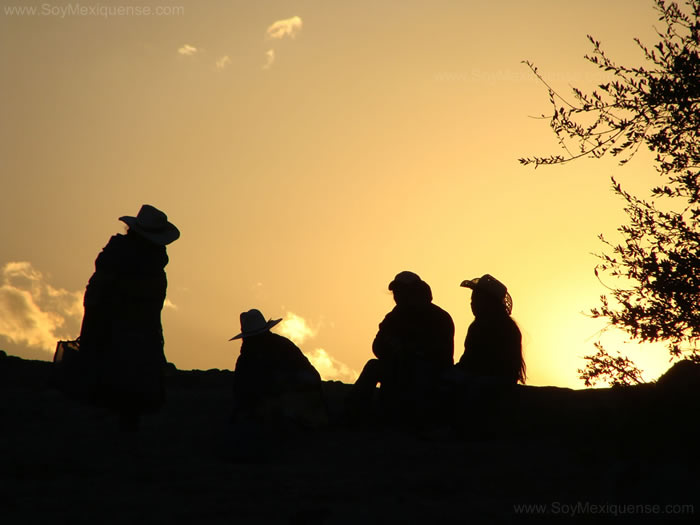 Aculco is a beatiful city at km 115 of México-Queretaro Highway, once you take the Aculco exit, you will need to drive 15 km to reach this small, quaint town. Aculco is 45 minutes from the toll booth at Tepozotlan.
History
Aculco means "Where the water knots". It was founded circa 1100 by the Otomi (regardless, its current name comes from the Nahuatl). It was conquered by the Mexicas around XIVwho lived there many years before the foundation of Tenochtitlan.
One of the main characteristics of this town is the fact that the Otomi people still live nearby and keep to their language and traditions.


Getting to know Aculco
Red tiles, whitewashed walls and stone paved streets all await you in Aculco as well as typical and historical spaces, great cheese and an ever present blue sky.
Visitors who enjoy nature and extreme sports will enjoy the Concepcion falls just 10 km away from town. Its cliffsare ideal for climbing and there is also ample space for camping.

PRINCIPAL CELEBRATIONS
February 19th: Anniversary of the settlement of Aculco
September 30th: Celebration of San Jeronimo which features dances, regional fairs and a regional gastronomical showcase
PLACES TO VISIT

Aculco is also rich in traditional and historical places. Here are a few you might wish to visit:
• Señor Nenthé Sanctuary. Of modern arquitecture, the locals praise the "Lord of the water"here.
• La Casa Hidalgo is located in the arches next to the municipal palace. Here, Miguel Hidalgo lived during the struggle for Mexico's independence in 1810.
• San Jerónimo Parish and Monestary was built in 1540 and features large, green spaces in a barroco style.
• La Concepción Falls are found 10 km from Aculco and can be reached using the Aculco-Amealco road. This is a perfect place to camp and we recommend visiting it in the summer as water in the Falls is more plentiful at this time of the year. The stone walls at the falls are ideal to practice rappel as there are several routes marked
Today, some communities still dress in typical dress which features quilted fabrics, shawls, sandals and colorful hemmed blouses and skirts. The skirts worn are long and have many layers. They of course are rich in colors, lapels and elegance.

Ixtle (Maguey Fiber). Artesans create hats, rudimentary nets for fishing and harvesting corn, bags and clothing.
HOW TO GET THERE

1.-From Mexico City, Naucalpan, Cuautitlan Izcalli.- Take Periférico Norte-Autopista México Querétaro, take the first toll booth located in Tepotzotlan, and continue on to km 115 where you will find the road to Aculco. 15 km. on a one way road and you will be in Aculco de Espinoza.
| | | |
| --- | --- | --- |
| | | |
| Toll booth from Tepozotlan towards Queretaro | Aculco exit on Km 115 | One way road to Aculco (15 km). |
2.-From Toluca.- Take highway 55 towards Queretaro and Atlacomulco. On Aculco continue on federal highway 55 toward Queretaro and at Atlacomulco continue on the same highway. You will find the exit a few km from Aculco.

3.-From Queretaro.- Take Bernardo Quintana Boulevard towards San Juan del Rio, at Palmillas take highway 55 to reach Aculco.
Map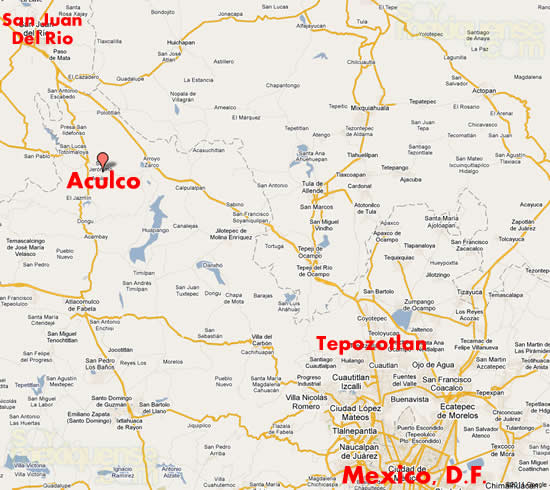 View larger map
>>> Gallery


CENTRO ACULCO:
CASCADA DE LA CONCEPCION:
SANTUARIO SEÑOR DE NENTHE:
PARROQUIA Y EX CONVENTO DE SAN JERONIMO:
VARIAS IMAGENES: